Bridging the Gap Between Consumers and Brands
[Swaggable]
Swaggable helps consumers discover new products by bringing them personalized feeds of relevant products and exclusive promotions.
Just as Google Adwords uses search to create actionable intent, Swaggable gets demand data by giving users an easy way to discover, try and review new products.
The Consumer Packaged Goods (CPG) industry faces a significant challenge – a disconnection between marketers and consumers, leading to a staggering 75% failure rate for new products. The industry is ripe for disruption, with brands desperately needing better ways to identify and understand their key consumers, and consumers needing better access to cut through the marketing clutter.
Swaggable identified this opportunity and partnered with CraftyPixels to develop a solution. However, this presented a unique set of challenges: How could they reduce product manufacturing waste, send clearer demand signals, and bring promotions into the digital age, all while avoiding issues like wastage, fraud, and measurement?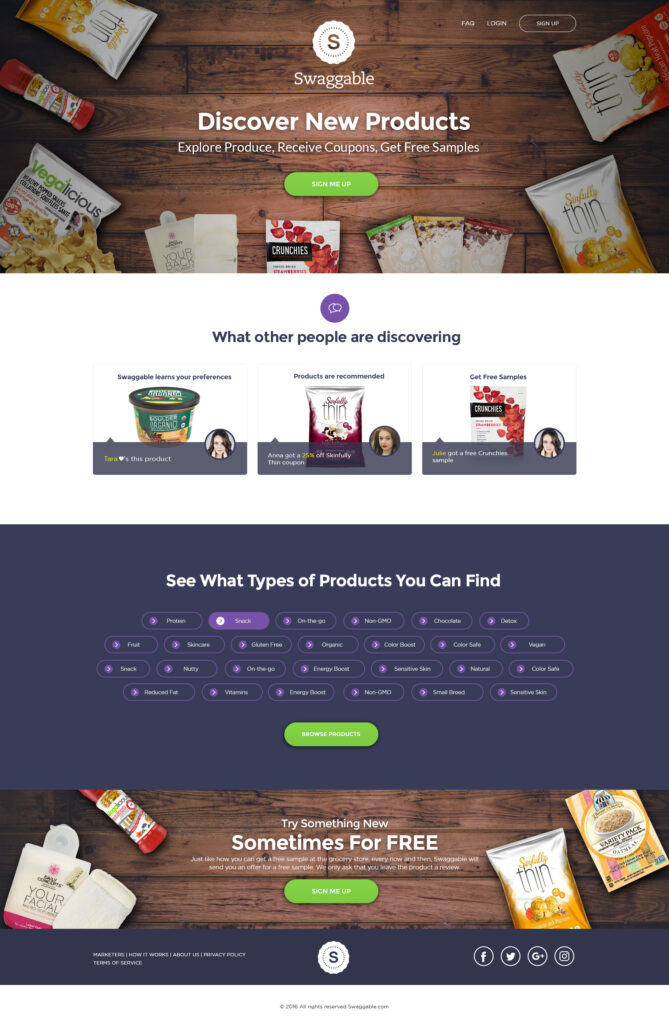 While advertising has already made the leap into the digital age, promotions, especially offline promotions are still stuck in the old school. By closing the loop on promotions, we solve some of the big problems like wastage, fraud and measurement.
Together, Swaggable and CraftyPixels developed a two-sided platform connecting consumers and brands through personalized discovery and promotions. The goal was to bridge the gap between consumers and brands using technology and in the process revolutionize the way promotions are handled.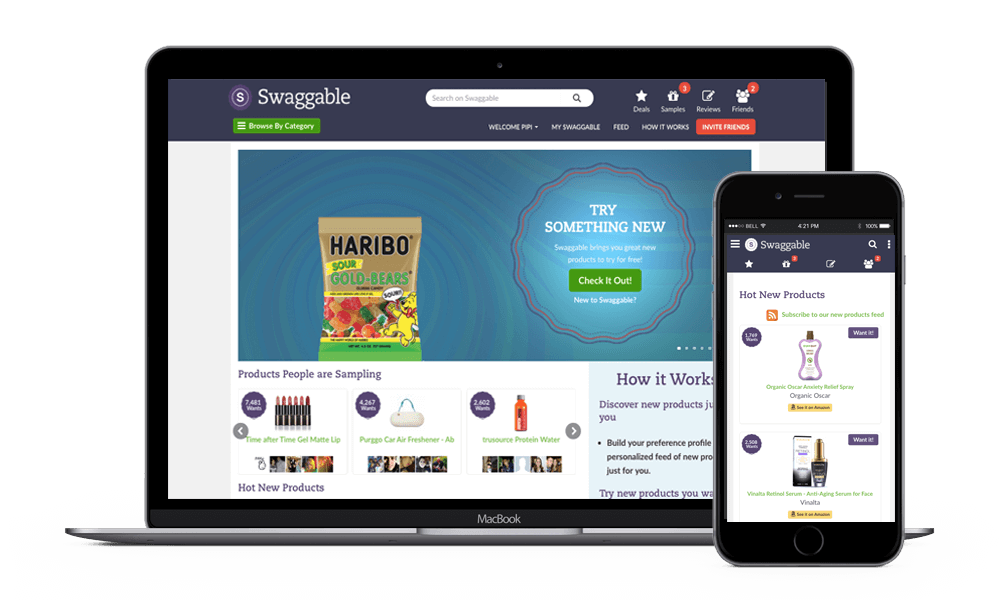 Consumer Site
 A comprehensive social network where users get a chance to try products with their friends
Transactional emails based on user actions.
Sophisticated invite server that picks users based on their location, campaign rules and activity and then sends them promotional offers.
Backend tools for Swaggable admins for operations that let them manage shipments, offers and support tickets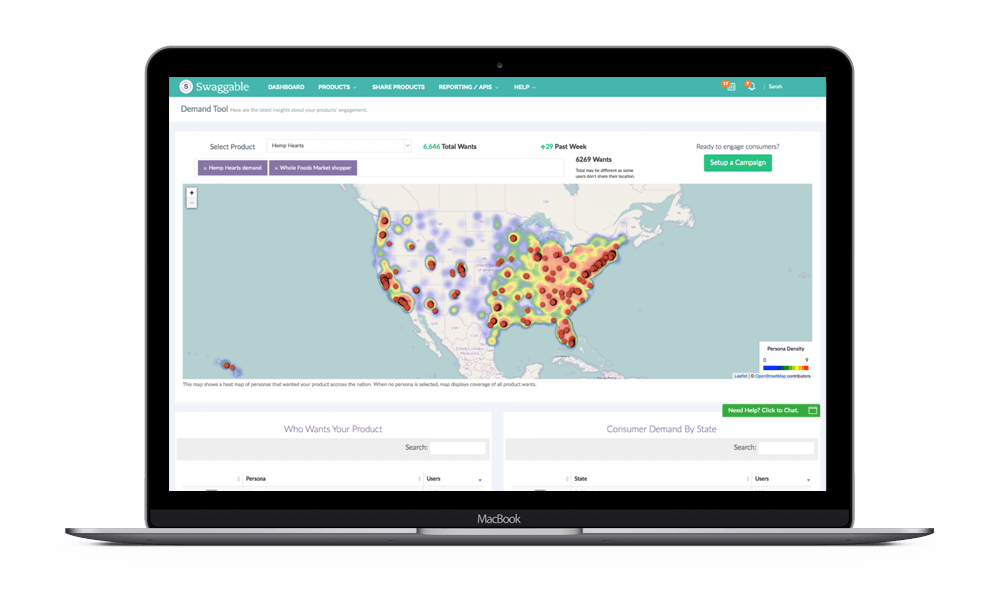 Marketers Marketplace
Insights dashboard where brands and marketers can see product demand with features to drill down to granular details.

Custom email templating and scheduling engine that helps marketers create emails without code.
Dynamic reports based on how consumers are interacting with products

Semantic analysis of reviews data generated through promotions. This has numerous insights on consumer behavior like purchase intent.
Key Features & Integrations
We've spent over 5 years building a better way for brands and consumers to connect through what really matters: product experiences. Our platform is the most effective way to close the loop around product trial experiences, creating a win-win solution that both consumers and marketers love.
The unique strength of our system is our ability to get far better consumer data, which is provided directly by our users. Everyday our users tell us about themselves, their needs and preferences because we use it to help them discover new relevant products.
This stream of rich data fuels our ability to match consumers and their demand with better promotions from brands who are looking to reach them.
To make the platform robust and efficient, various integrations and technologies were employed:
Amazon MWS and Product Advertising API Integration
Facebook Open Graph and SDK Integration
Machine Learning in partnership with IBM Watson
REST APIs & Documentation
Twitter SDK Integration
Email Marketing
Google Places & Maps API
AWS & Infrastructure
User Demand -> Personalized Promotions = Happy Consumers and Higher Sales
There is no better feeling in the world than to touch thousands of lives by improving their experiences, even if it's a step at a time. We've been able to create a platform where a user is now more aware of products around them. On the other end, marketers are not shooting in the dark anymore but making informed decisions based on data. The platform's success is evident in the numbers:
Growth from 0 to over 150,000 users and counting
More than 500 paying brands with recurring campaigns
Over 100,000 written reviews, with a review rate of more than 70%
Here's what Sarah Pelland, Social Media & Marketing Manager, Manitoba Harvest had to say about the platform:
"Since our product is new and unique, engaging interested consumers in niche segments is critical. Swaggable's ability to find and reach our ideal customer has been incredible and the insights from reviews have helped us identify new segments along the way."
By improving user experiences, the CraftyPixels and Swaggable partnership has touched thousands of lives and brought about a significant change in how brands and consumers connect. 
Interested in exploring a similar partnership?
Tap into our full stack product expertise and let us help you build your product.